Picked up the CB & Communication System for the RT-S last week, these are some pics and the instructions are below.
CB & Communication System

Part #

219400145
Price:
$799.99 (MSRP USA)

BRP Estimates Installation Time As:

1.5 hours

KIT CONTENTS
CB Module
Antenna Support
CB Antenna
Screw K50 x 16 (5)
Nut M4 (2)
Washer M4 (2)
Washer Stainless M4 (1)
Lock Washer M6 (1)
Antenna Harness
Antenna Protective Boot
Driver Helmet Connector Harness DIN
Screw M6 x 20 (4)
Screw M6 x 16 (8)
Retaining Ring (drivers DIN)
Locking Tie 142mm (9)
FCC Radio Guide
DIN Connector Cover
Antenna Base Screw M6 x 16 (1)
INSTALLATION INSTRUCTIONS
Remove body components on both sides as follows:
1-Remove mirrors
1.1-Slide mirror upwards in order to unhook from the upper slots.
1.2-Disconnect turn signal connector.
2-Remove middle side panels. Pull panels off the front grommets, then unhook at rear.
3-Lift seat.
4-Remove lower wind deflector retaining screws.
5-Remove upper retaining screws from top side panel.
6-Remove rear retaining screw from top side panel.
7-Remove front retaining screw from top side panel.
8-Remove lower retaining screws of top side panels.
9-Remove top side panels by lifting them upwards.
10-On both sides, remove upper retaining screws from front fascia.
11-On both sides, remove middle retaining screws from front fascia.
12-Remove lower retaining screws and washers from front fascia.
13-Remove front fascia from vehicle.
14-Remove front retaining screw of rear side panel.
15-Remove upper retaining screw and washer from rear side panel.
16-Remove front plastic rivet from rear side panel.
17-Open side storage compartment cover.
18-Remove rear retaining screws from rear side panel.
19-Remove top retaining screw of rear side panel.
20-Remove rear side panel from vehicle.
21-Remove retaining screws from acoustic panel.
22-Remove acoustic panels from vehicle.
23-Disconnect glove box cable from glove box.
24-Remove locking ties securing glove box cable.
25-Remove locking ties securing central panel switches.
26-Remove 3 plastic rivets from glove box on both sides.
27-Remove 2 retaining screws from glove box on both sides.
28-Slightly lift glove box out of its location.
29-Carefully pivot glove box to provide access to the knockout piece in the central switch panel.
DRIVER HELMET CONNECTOR HARNESS INSTALLATION
1-Remove and discard knockout piece from central switch panel.
2-Bring driver helmet connector harness from the back of the central switch panel.
3-Vehicle headset harness should be mounted so that the notch in the DIN connector is to the right when you are seated on the vehicle looking at it.
4-Install the cover and retaining ring above the DIN connector.
5-Route harness alongside the harness of the other switches of the central switch panel.
6-Connect other end of Driver Helmet Connector Harness to the vehicle harness connector close to the other switches connector.
7-Attach the harness at 6 locations using locking ties.
REAR CARGO MODULE REMOVAL
1-Remove seat from vehicle.
1.1-Disconnect shock absorber from seat base.
1.2-Unplug pillion rider (passenger) switch.
1.3-Remove seat base retaining bolts. NOTE: Retaining bolts are attainable also from above seat.
1.4-Remove spacer and caged nuts.
2-Remove rear retaining screw from battery access panel (LH SIDE).
3-Disconnect passenger heated grip switch.
4-Remove battery access panel from vehicle.
5-Remove rear retaining screw from audio player access panel (RH side).
6-Disconnect passenger audio control switch ( option package).
7-Remove audio player access panel from vehicle.
8-Disconnect LH and RH ground straps by unscrewing each retaining screw.
9-Disconnect both cargo harness connectors located on the LH side of the vehicle near passenger grab handle.
10-Remove lateral retaining screws and washers ( on both sides ) of rear cargo module.
11-Remove top retaining screws of rear cargo module.
12-Carefully pull rear cargo module toward rear.
INSTALLATION OF CB & COMMUNICATION SYSTEM
1-Install CB Module on the RH side of vehicle.
2-Secure with retaining screws (K50 x 16). Torque to specs.
3-Connect both connectors from the CB Module to the entertainment harness connectors. Remove connector seals on so equipped vehicles.
4-Ensure harness is routed alongside the RH side of the rear cargo module.
5-Connect antenna harness to the CB Module.
6-Cover the other end of antenna harness with adhesive tape to ease insertion and routing of harness.
7-Insert CB antenna harness into small opening below the battery acces panel opening when cargo is viewed from underside.
8-Pull antenna harness from top of LH side of rear cargo and remove adhesive tape.
9-Install antenna base onto the LH rear speaker module.
9.1-Install nut (M4) onto the antenna base connection screw and torque to specs.
9.2-Insert antenna harness connection screw into hole in speaker module.
9.3-Secure antenna base with antenna base retaining screw (M6 x 16) and torque to specs.
10-Turn rear speaker module around to see antenna harness connection screw.
11-Connect antenna wire to antenna base retaining screw. Place the washer (M4) on the post and then the ring terminal on the harness. Secure with the nut (M4), torque to specs.
12-Connect ground strap to LH rear speaker module using retaining screw (K50 x 16), torque to specs.
13-Attach antenna harness to rear cargo harness with locking ties at 2 locations.
14-Secure other end of ground strap to vehicle.
14.1-Location for ground is the same location as radio ground, under the battery access panel.
14-2Use the same retaining screw to secure both ground straps to vehicle.
14.3=Torque to specs.
15-Remove knockout piece from rear speaker module plastic panel.
16-Install lock washer (M6) and gently tighten with small wrench CB antenna into LH rear speaker module.
17-Install antenna protective rubber boot on antenna and secure into locking tabs on plastic panel.
INSTALLATION OF BODY PARTS
The installation is the reverse of the removal procedure. However, pay attention to the following.
NOTICE :
The antenna harness must be protected from pinching or small radii bending to avoid permanent damage to coaxial cable. Carefully lower the rear cargo unit onto the vehicle.
NOTICE :
Be careful when tightening plastic panels. Any deformation on the panel around the screw is an indication that it is too tight. Do not over torque panels in order to avoid damaging them.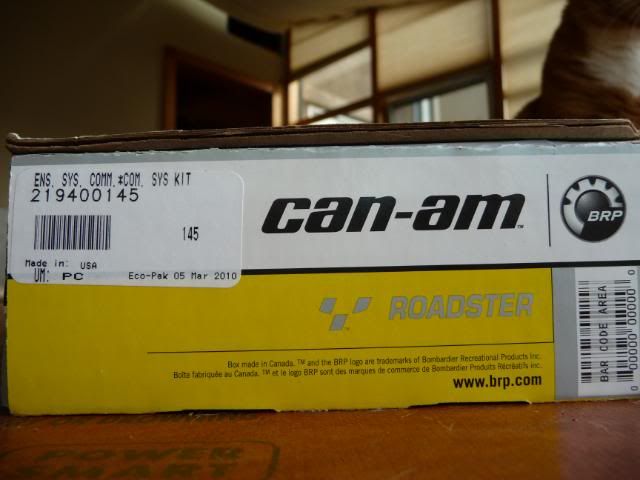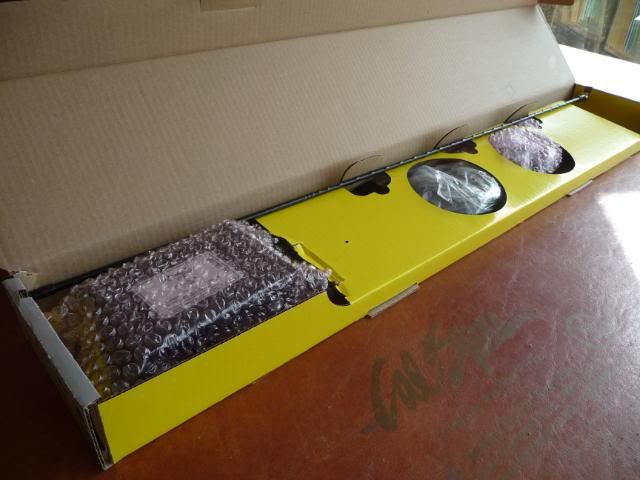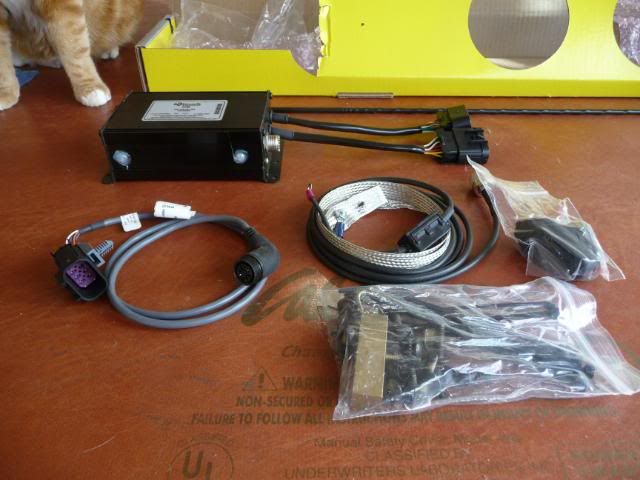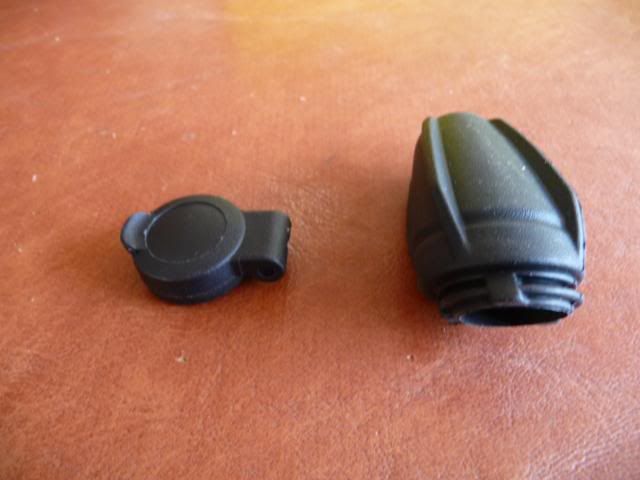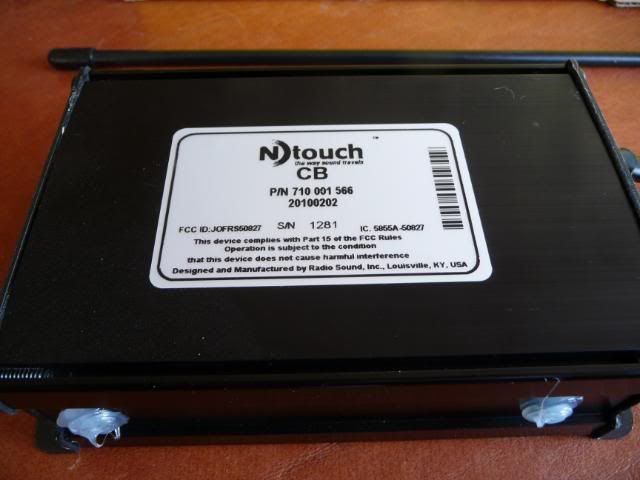 The
N Touch
CB is manufactured by Radio Sound.
Radio Sound
CB or XM OWNERS
If you have ordered the CB or XM accessory, make sure your dealer also ordered the required harness below.
Entertainment Harness

Part #

219400201
Price:
$109.99 (MSRP USA)

BRP Estimates Installation Time As:

1.5 hours